FLAG NEWSLETTER
January 2020
CHAIRMAN'S NOTES
You will be reading this in the New Year 2020, but I am writing it in the Old Year, not knowing the result of the General Election and therefore of the Brexit outcome, besides not knowing how our arrangements turned out for assisting the Art Gallery Staff with "Santa's Grotto" or with the Winter Shop at the Royal Pump Rooms. However, I am aware of the promised help, as always from our members, to staff the refreshment element of the Santa event and almost certainly we can rely on their willing help in the Shop venture.
Our co-ordination with the Art Gallery Staff has been strengthening of late and Committee Members were invited to a working lunch at the Royal Pump Rooms to discuss future contacts and to air views on recent developments. In particular we were concerned about how the Staff might help us in publicising our organisation, since, without a steady recruitment of new members, the contributions we are able to make towards conservation and purchase of works of art and collectable museum items would diminish. Our Treasurer calculated that over the past five years FLAG has contributed over £26,000. As a result of the meeting a discussion was arranged with Johnathan Branson, Programming and Marketing Supervisor, as to how the publicity issue might be taken forward and this matter is still in discussion. However, apart from this, our own members can play an important part by bringing visitors to meetings in the hope that they will wish to join our numbers.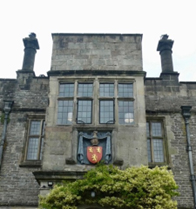 We opened the new season in October with a grand meeting on Japanese art backed up by sumptuous refreshments all in memory of Christine Percival, former faithful supporter and Chairman, who bequeathed funds to stage such a celebratory event for members.
We were extremely grateful to those who arranged the logistics for this event and who dealt with the inevitable minutii necessary to stage it.
Another commemoration took place in November when classes of young children from Sydenham School spent half days at the Art Gallery to introduce them to its environment, which most had not experienced before. Among other activities they were encouraged to produce designs based on those of the local artist Terry Frost and some interesting designs were made. They were shown the flood barrier, partly in place to protect the stored works, in case of an inundation resulting from the November heavy rains. This was the first of an annual series of school visits in memory of Graham White, our late Chairman, of which, with his interests in the welfare of young people, we feel he would have heartily approved. Hopefully, the event will encourage the children to venture in to the Art Gallery again, especially when they are older.
FLAG is surprisingly out-reaching and if as result of our enjoyment in attending meetings and participating in coach visits, we are able to raise the necessary funding to make contributions to the Art Gallery and Museum we have every justification in experiencing satisfaction.
GRAHAM E. COOPER
Chairman.
December 2019
*******
FLAG welcomes the new Warwick District Arts Officer
Hello,

I'm Carole Sleight the new Warwick District Arts Officer based at the Art Gallery. This role is an exciting challenge for me as it draws upon my 16 years at the BBC as a Director/Producer of documentaries and community programming, my 6 years as co-founder and director of Leamington's Art in the Park festival which this year welcomed 240 artists and 45,000 visitors to the town.
I am currently working on plans for the creative symposium 'Spark' on 14 February 2020. You can find regular updates on Facebook under WDC Arts News. I'm also really looking forward to working and supporting all our invaluable volunteer organisations without whom we could not deliver our great range of events.
Carole Sleight
Arts Officer/ Dec 2019
PROGRAMME NOTES
FEBRUARY – APRIL 2020
Tuesday 18 February

Henry VIII and the Field of Cloth of Gold
Gillian White needs no introduction, we have enjoyed many of her talks. This year, 2020, marks the 500th anniversary of Henry VIII's legendary encounter with his great rival Francois I of France. Gillian will, I'm sure, be painting her usual vivid image in words and pictures of the event for us.
Tuesday 17 March

Croome Court and Park
Set in 'Capability' Brown parkland Croome Court is a mid-18th-century Neo-Palladian mansion. The home of the Coventry family since the 16th century the building has been used for a variety of purposes. Dr. Christine Dodd will be telling us about the history of the house and parkland up to the present day.
Tuesday 21st April – A.G.M.
The AGM will start at 7.15pm to be followed by:

'Making Histories' – New Responses to the Ceramics Collection
Lily Crowther is the curator of this exciting new exhibition at the Art Gallery & Museum, which opens in March. We are delighted that she has agreed to come and explain the ideas and inspiration behind the exhibition.
The publication to accompany this exhibition has been funded by FLAG and will free to members during the exhibition and available from the shop on request.
*****
NOTE
Our evening meetings take place at 7.30pm in St Peter's Conference Centre, Dormer Place.
There is car parking on the street in Dormer Place and St Peter's Car Park, just round the corner, in Augusta Place. The small car park at the centre is reserved for church members.
Art Gallery & Museum News
As another year hastens to an end it's a chance to look back on what has been happening at the Art Gallery & Museum in recent months and update you with plans for the coming year.
EXHIBITIONS & DISPLAYS
Through the autumn we enjoyed hosting our first Artist Rooms exhibition in collaboration with Tate and the National Galleries of Scotland. The touring programme, which was delivered in partnership with Ferens Art Gallery through 2019, is supported using public funding by the National Lottery through Arts Council England, by Art Fund and by the National Lottery through Creative Scotland. The exhibition of photographs by the celebrated 20th century artist Diane Arbus was extraordinarily well received. We also received funding which enabled us to offer a series of events to accompany the exhibition which were designed to attract the 13 – 25 age group.
We had great fun devising and delivering a programme of events in the 'Salon' area set up in the foyer, which were well attended and reached a new, young audience. We also ran the fabulous Humans of Leamington project, which took its lead from Arbus' desire 'to photograph everyone', and referenced her distinctive style of photographic portraiture. 30 photographs of Leamington based creatives were taken by the brilliant Jo Lewis and were displayed around the town. Huge thanks to Alice, Jonathan and Sally for all their work on this project and to India, Tammy, Emily and Maddie and all the workshop leaders who delivered the Salon events.
On 13 December our new exhibition of photogravure etchings by the brilliant contemporary artist Cornelia Parker opened to the public. Thank you so much to the FLAG members who volunteered to serve refreshments at the official opening on 14 December which linked with our traditional Santa's Grotto event.
Thank you too for all the support FLAG members are providing to oversee our Winter Shop, which is now in our foyer and showcases the work of local artists and designers. We were really overwhelmed by all the support that was offered. It is hugely appreciated and has enabled us to try out new ways of providing an outlet for local talent.
History Curator, Lily Crowther, is working hard on the next exhibition, Making Histories, which will open on 20 March. We are also working towards the re-hang of the main gallery which will take place in February 2020.
EVENTS & PROJECTS
Creative Mornings have now become an established event in the cultural calendar and take place each morning at 7.30am in the Pump Rooms. We have been treated to fascinating talks and to performances by Motionhouse also Guitarist Alfie Amadeus. The perfect way to start the day! For more information or to book a place at the next talk, see www.creativemornings.com.
Our offer to schools has continued to develop and we were delighted to hear that the V&A's Museums & Schools partnership with Culture Coventry will be continuing for year 2020-21.
We are working closely with Sydenham School and had two wonderful sessions with their pupils funded by the Annual FLAG School Award in Memory of Graham White.
On 14 February 2020 we shall be hosting a major symposium for all creatives living and working in Warwick District. Spark – create, celebrate, collaborate will provide an opportunity to showcase the creative work which is already happening in the district and consider ways in which it can be developed and promoted. To sign up to this free event visit www.warwickdc.gov.uk/spark.
COLLECTIONS
In the past few months we were delighted to finally be able to purchase Colin Hitchmough's painting Dictionary of Silences which was made possible through the support of FLAG and the ACE / V&A Purchase Grant Fund. We are now in the process of applying for funding to support the purchase of Amy Sharrocks' beautiful Thistledown drawing.
We are also in the process of acquiring a film called Muthi by artist Uriel Orlow through the Contemporary Art Society. The film considers the healing properties of non-western alternative medicines and has a strong link with the artworks in our collection on a medical theme.
Earlier this month we received a particularly exciting email. The descendants of artist Dorothy Annan, who was based in Leamington as part of the camouflage directorate during the Second World War, have offered to donate her Sketch for Leamingtonian Life to the collection. The painting was a highlight of the Camouflage exhibition in 2016 and is the only surviving record of the mural that once adorned a wall of the wartime British Restaurant.
OTHER NEWS
In September we were delighted to welcome Carole Sleight to the Collections & Engagement Team as Arts Officer. Carole has run Leamington's vibrant Art in the Park festival for the past 6 years is an active member of Leamington's cultural and creative life. Her main responsibilities are alerting and supporting artists about grant opportunities, sharing networking, art and creative opportunities also working on any special projects such as City of Culture and The Commonwealth Games. She has arrived at an exciting time as the district is in the process of writing a creative framework in response to what our creative community needs and wants.
On a sad note, though, we bid farewell to Alice on 17 December. After working as curator at Leamington Spa Art Gallery & Museum for almost a decade Alice is moving to a new role as Curator at the MAC (Midlands Arts Centre) in Birmingham. Alice has been a much loved member of the team. We wish her all the very best and shall miss her calm and positive presence, not to mention her fabulous fashion sense!
Very best wishes to you all and we look forward to seeing you all in the New Year.
Chloe Johnson
Collections & Engagement Manager
Dec 2019
GALLERY STAFF
LILY CROWTHER – CURATOR (Social History)
Together with my job-share partner, Huw Jones, I look after the collections of social history, ethnography, decorative art, archaeology and numismatics.
My background is mainly in craft and design – I was a curator at the V&A for several years, and I am particularly interested in architecture and ceramics. I moved to Leamington in 2014, and was working as a freelance writer and researcher until I joined LSAG&M in 2017.
Outside work, I have recently started reading for a part-time DPhil in History at Oxford. My focus is on a collection known as the Museum of Construction and Building Materials, which was one of the precursors of the V&A at South Kensington in the mid-nineteenth century. I also have two children, who are both at Sydenham Primary School, and I enjoy cooking and knitting.
About Making Histories:
When I first arrived at LSAG&M I was very excited to discover the ceramics collection. Over the last 18 months I have been working on putting more ceramics on display. I began by installing a new permanent display in the Art Gallery in late 2018; we plan to refresh this with a new selection of objects every two years. I then started work on Making Histories, a temporary exhibition of ceramics by contemporary makers inspired by our collection, which will open in March 2020.
Seven Midlands-based makers will be taking part in Making Histories. They have chosen objects ranging from pre-Columbian Peruvian whistling pots to Staffordshire figurines and Regency porcelain, and the work they are making in response is equally eclectic. I hope that the exhibition will showcase the surprising hidden depths of the collection, as well as the strength of contemporary ceramic practice. 'Making Histories' has been funded by the Arts Council, and thanks to the generous support of FLAG it will also be accompanied by a book.
LC/Dec 2019
Dictionary of Silences (Aurora Bognorealis), acrylic on canvas, 2015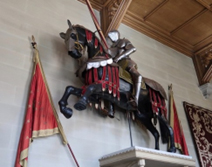 The small village of Milies is on the Pelion peninsula in Greece. You can get there on The Little Train of Pelion which snakes up Mount Pelion from Ano Lahonia. Construction of the line started in 1892 and the last stage to Milies was completed in 1900. The chief engineer for the project was Evaristo De Chirico, father of the artist Giorgio De Chirico. Many of Giorgio De Chirico's paintings contain an image of the train.
There is an old library in the centre of the village and wandering round the library a few years ago, I thought I heard the Librarian refer to one of its rarest books as a "Dictionary of Silences".
I thought no more about this until some six months later when I was working on a series of small paintings using black marker pen on acrylic - mostly short lines, freely drawn, in stacks and rows. The larger paintings that followed were made painting wet on wet to keep the immediacy and fluidity of the smaller paintings, and used similar groups of lines. In both series of paintings the organisation of the lines created gaps, intervals, spaces, a kind of notation, just like words, sentences, paragraphs; songs, hymns, poems, silences between sounds. And it was here that the library in Milies came to mind again.
I am sure that there is no Dictionary of Silences in the old library in Milies. The Librarian might have been referring to dictionaries and encyclopaedias in the collection, perhaps the library's copy of Souda's Dictionary of 1619, but I rather liked the idea of a dictionary of silences. What would it look like? What would be on its pages?
Six of the small paintings, subsequently called "Small Silences", and five large "Dictionary of Silences" paintings were shown in the exhibition at the gallery in 2016/17. The last in the series had "Aurora Bognorealis" added to the main title, a reference to the splendours of Bognor Regis, my home of the last ten years.
Colin Hitchmough.
November 2019
In order to gain major funding the Art Gallery & Museum often have to secure some local funding. This was the case to enable them to acquire 'Dictionary of Silences'. FLAG donated £250 to demonstrate local support for the purchase of this work.
FLAG EXCURSIONS - 2019
Visit to Salisbury, July 21st 2019
On a glorious but at times overwhelmingly hot day we arrived in Salisbury in good order. We had a few hours to explore on our own before our pre-booked tour of the old city. The cathedral itself could be visited, or some of the fine houses in the Close:
The Rifles' Wardrobe or Arundel House, the retirement home of Edward Heath.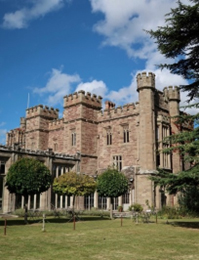 This lovely house is the former home of Prime Minister Edward Heath. Originally a medieval Canonry, After the Reformation the new Protestant Canons built the elegant Queen Anne house which set off the Close today. It had a classical facelift early in the 18thc and acquired its name when lived by the son of Lord Arundel. It was owned by the Cathedral Chapter and following WW2 was in a very dilapidated state, it was was considered for demolition.
Arundel House is now restored to a beautiful Queen Anne mansion with a large garden stretching down to the Avon. The house had a dignified atmosphere, very much the home of a man of rich cultivation, with its fine library, splendid collection of 20thc British painting and of course the grand piano.
We then assembled for our city tour and were told how Salisbury was a medieval 'new town' carefully planned next to the Close once the Pope allowed the bishop to come down from Old Sarum onto the lusher valley below. The city was laid out to the north of the Close on a grid pattern with cross streets ('chequers'). Some of the main streets curved slightly to improve the flow of water along central canals which provided clean water for the clothiers of the city.
The market square originally had mounted crosses at each corner denoting the typical produce sold there, but only the Poultry Cross survives today. We were shown how many of the timber-framed merchant houses were overlaid with a façade of 'mathematical' brick tiles in the 18c to keep up with the fashion.
Our first stop was the imposing Town Hall with its early 19c Magistrates Court modelled on the Old Bailey. This was in use until fairly recently but now hosts wedding ceremonies. One scurrilous wit suggested that meant life sentences were still being given out today.
Nearby was the timber framed house of John Halle, a clothier and among the most important men in the city. We could visit his original hall with its elaborate timber roof, now the entrance to a pre-war cinema beyond, at once incongruous but in keeping in such an entrepreneurial house. We next entered St Thomas's, the city church finished before the cathedral itself to serve the new town springing up. Though under restoration we could still glimpse tantalising sections of the great doom painting at the east end.
We then made our way to the Choristers' Close which was walled in the 13thc to prevent the townsfolk from invading its tranquillity. As the commercial city was already cramped from its earliest days, there was not much love lost between the twin centres. In the middle ages the Canons of the cathedral built themselves palatial dwellings around their church, only a few of which still survive today. At Northgate is the chapel of St Ann where Handel gave a public recital. It was at Malmesbury House on this corner that Charles II stayed in 1665 to escape the London plague and Nell Gwynn may have come to see the cutlery manufacture, buying a pair of scissors for 100 guineas! A wall-mounted sundial of 1749 not only tells the time, but also is marked for the day of the year (according to the pre-Julian calendar).
It was a comprehensive tour, given with great enthusiasm and a light touch, which greatly helped to offset a stifling heat, but how cool old buildings keep!
Peter Larkin
©photo Carolyn Gifford
FROGMORE HOUSE & THE SAVILL GARDEN
August 2019
The excursion to Frogmore House proved, rightly, very popular. We had a full coach and an excellent driver who got us to Frogmore at exactly our allotted entrance time. The welcome was warm, as was the weather, and our guides were excellent, full of information and anecdotes.
We began the tour in the beautiful grounds, apparently a personal favourite of the Queen. We could see the Royal Mausoleum across the lake and had a closer look at Queen Victoria's Tea House.
The house itself underwent extensive restoration in the 1980's and is now used to host private and official events.
Items collected by various members of the Royal Family throughout the years are on display. Each room was packed with treasures but overall the house seemed to have a very comfortable feel being rather less grand than other royal homes. There was one room decorated with painted flowers by the artist Mary Moser which was beautiful. In 1997 following the decommissioning of the Royal Yacht Britannia, the Duke of Edinburgh furnished one room with a selection of items from the vessel.
After a very interesting morning we were waved off by the guides and made the short journey to the Savill Garden where we spent a relaxing afternoon strolling round the garden and sitting in the sunshine.
The magnificent wild flower meadow at the entrance to the Savill Garden.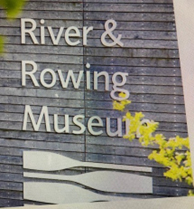 photo ©Susan Adams.
Tatton Park and Tatton Old Hall, Cheshire
September saw us heading off to Cheshire to see Tatton Park and nearby, the Old Hall. It was an ambitious itinerary (a bit too ambitious in the glorious sunshine) but well chosen in that the two buildings are very different. The estate had been owned by the Egerton family since the 16th century, with the present neo-classical mansion designed by Samuel Wyatt at the end of the 18th century. Unusually for a stately home of that time, it was not funded by connections with the Slave Trade but by a series of advantageous marriages. The estate was left to the nation in 1958 by its last owner, Lord Egerton, and is now owned by the National Trust in conjunction with Cheshire East Council. We started with the gardens – some 50 acres set in 2,000 acres of landscaped parkland which is only a fraction of the original estate, which covered an astonishing 251,000 acres! We only managed the Italian Garden, from which you can at last see the house (which is otherwise surprisingly hidden), and the Japanese Garden, both a delight, and the curious temple, which is (apparently) a Choragic Monument of Lysicrates, based on one in Athens.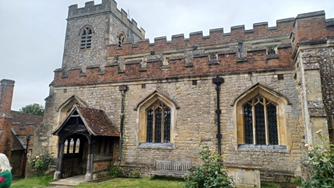 Having had a leisurely lunch, we then had to view the mansion rather hastily, giving its huge library, fine furniture (much made for the house) and paintings less time than they deserved. One painting rather unconvincingly says 'L. Da Vinci' on the frame, which is an interesting idea that I might take up… Amid all the grandeur, I particularly liked the zinc bath in one of the bedrooms, which has a firebox at one end to warm the water, and a flue poking up the nearby chimney – but no means of emptying it.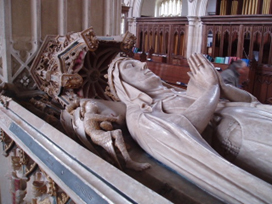 We then walked the short distance to the Old Hall, originally a timbered building from the 15th century but now brick, where we were given a guided tour. Surprisingly, it was inhabited until recent years (not in great comfort, presumably). At one end is a double-height hall with fine roof timbers, and the Trust has arranged the rest of the house to illustrate the intervening centuries, ending up in a post-war sitting room with Utility sideboard, a wireless and not flying ducks on the wall but three seagulls. The guides were entertaining – almost too entertaining, as we ran out of time to go back to the mansion for tea. Somehow we managed to survive this privation.
I would like to congratulate FLAG on another very worthwhile trip and say what a friendly lot you are. Many of you are also rather erudite, able to tell a Monet from a Manet and indeed, Millet from Millais (which is more than I can do reliably), which is of course quite appropriate as friends of the art gallery.
C Gifford
©photos C Gifford
FLAG EXCURSION TO WALSALL OCTOBER 2019
OUR DAY IN WALSALL
New Art Gallery
We started with a visit to the New Art Gallery. This overlooks the canal wharf which once bustled with boasts carrying away the products of the 'Town of a Hundred Trades'. Now it is choked with Water Fern, with only one semi-derelict workshop, over-shadowed by out-of-place buildings. Walsall has suffered from re-development.
The Art Gallery was opened in 2000 to house the Garman Ryan Collection of 365 works and Walsall's art collection, founded in 1892 and still growing. Jacob Epstein and Kathleen Garman (who was born in Willenhall) married in 1955 and after his death Kathleen and their friend, American sculptor Sally Ryan, formed an art collection which was donated to Walsall in 1973. According to her wishes it is displayed thematically, along with part of Epstein's archive. A lot more of his work is on show during 2019, the 60th anniversary of his death.
We had an informative talk about the complicated relationship between Epstein and Garman, gathered around a shrinking and dripping ice sculpture, 'Fantasy', a symbol of manhood, which has to be replaced each morning. Here in the portrait section there were several Epstein bronzes, including the sad bust of his daughter, Esther, and a wild drawing of his sometime friend Augustus John.
In the Animals room Polly Morgan's 'Myocardial Infarction' used taxidermy to mount lovebirds and a budgie on a realistic heart from which they feed. Epstein's bronze of his collie Sparkie was more pleasing. A case displayed more ancient artefacts, among which were a pair of clasped hands in marble, an Egyptian relief of a servant 1350 BC, an Etruscan figure of a youth 7 BC and Europa and Bull, Boetia 6 BC in terracotta.
There were wonderful small etchings by Samuel Palmer, 'Opening the Fold Early Morning' shows each sheep in detail, rushing forth as the sun's rays break through. Blake's 'Christ in the Carpenter's Shop' depicts him bending over a pair of dividers. 'The Country Dance' by Renoir and Robert Bevan's 'Breton Women' were eye-catching. There were works by Constable, a pencil drawing of an ash tree and a cloudscape, and Turner – a watercolour of Carlisle. A small painting by Boudin, 'Figures on a Beach' and a woodcut by Durer 1497 hung near an etching 'Going to Work' by Millet.
An ancient cracked wooden carving of Christ was on display which appeared in a large oil painting, 'Easter Friday' by Theodore Garman, whose early death triggered the suicide of his sister Esther. The Rembrandt and Van Gogh were out on loan but there remained much to appreciate in this wide-ranging display.
All the gallery hand rails were leather-covered, an art work in themselves and our visit to the Leather Museum gave us an insight into Walsall's most important trade.
The Leather Museum
occupies the former premises of J. Withers and Son, built in 1861 for the production of Lorinery (spurs, bits and stirrups). The structure was rescued from subsidence caused by limestone mines. Lime was essential for the iron and burgeoned.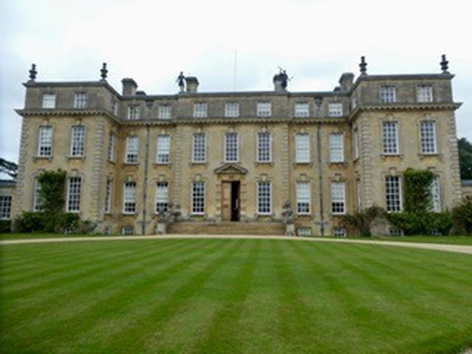 Now there are more top quality saddlemakers and small leather-goods manufacturers than anywhere else in northern Europe. We climbed wooden stairs up to the old workshop and had the pleasure of stamping and gilding a key fob each. When the demand for harness declined the leather works diversified into fancy goods and gloves. The Queen's handbags are made in Walsall.
We learnt about the back-breaking, hernia-inducing work of tanning using foul-smelling liquors and draw knives. The skilled craft of the currier involved a seven year apprenticeship. Our guides were very proud of their town and the local football club 'The Saddlers' who defeated Arsenal in the FA Cup in 1933.
After tea looking out over trees used in the tanning process, we left the town having had a day full of variety and passed the famous arboretum whose lakes are flooded limestone workings.
Marilyn Lowe
Nov 2019
Our two guides at the Leather Museum painted a vivid picture of the working lives of the men and women employed in the leather industry in the 19th century before letting us loose to make our own embossed leather key rings and to enjoy their delicious tea and cake.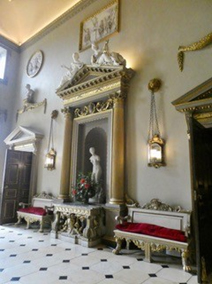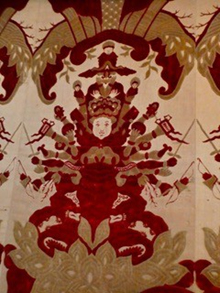 ©photos Eithne Batt
Oct 2019