FLAG NEWSLETTER
January 2019
CHAIRMAN'S MESSAGE
As I write this, Christmas preparations are under way and by the time you read this it will be a new year. 2018 has been eventful with interesting topics at our evening meetings.
Thomas Baker - Kenilworth Castle
The presentation by Chloe Johnson on local artists, Thomas Baker and John Burgess, was very welcome and demonstrated our good fortune in having such capable painters to record our area in the nineteenth century. In the main I should be more than happy to have any of their works hanging on my walls.
Rightly so, the Centenary of the 1918 Armistice was well commemorated and perhaps the most visual manifestation was the huge exhibition of poppies in St. Mary's Church, Warwick. The Art Gallery staged a fascinating exhibition on the local effects of the Great War.
We marked it with the very moving presentation by Margaret Louise O'Keeffe on "Letters to Mother" - a record of a number of soldiers, writing home from the front. Margaret said that this would be her final presentation and we were pleased to recognize her visits with a gift, since she has given us so many fascinating talks over the years.
There are some intriguing objects in the Museum relating to Royal Leamington Spa and I am delighted that FLAG has agreed to contribute significantly (see below under Collections) to the medallion worn by the Master of Ceremonies of Leamington in the early days of the nineteenth century. Where it has been all these years would be interesting to know, but it came on to the market and it is highly appropriate that it should be on view in the town.
It was with regret that we received the resignation of Linda Nelson as Honorary Treasurer. We are very grateful for her management of the accounts and dealing with other matters such as the Charity Commission requirements. However, we are delighted to be able to announce that Marian White has kindly agreed to take on this responsibility and we much appreciate this contribution by her to the administration of the Society.
As with other organisations, there is usually a worry with setting up and whether the power point arrangements will be compatible. It is reassuring when a speaker brings their own projection expertise. We are still in a transition period between the old slide projector and power point: I have no doubt that in due course we shall just "switch on" the equipment without any worries as to whether it is going to operate. It was remarked to me that we press computer buttons and hope they are going to work, but a young person does so and knows that they are going to work! Anyway, this is a big thank you to those of our members who always seem to be able to sort matters out.
Our monthly programme has been published up to April and other events are being arranged. I would like to wish all Members a Very Happy 2019 with personal happiness and continuing successes for FLAG.
GRAHAM E. COOPER
Chairman.
Dec 2018
*****
NOTE
Our evening meetings take place at 7.30pm in St Peter's Conference Centre, Dormer Place.

There is car parking on the street in Dormer Place and St Peter's Car Park, just round the corner, in Augusta Place. The small car park at the centre is reserved for church members.
FLAG
PROGRAMME NOTES
February 2019 – April 2019
Tuesday, 19 February
FROM PAGE TO STAGE:
The life and work of an itinerant Theatre Designer.
Have you ever wondered why some theatre sets stick in your mind as iconic works of art in their own right? Well here's a man who can answer that question and any others pertaining to set design, textiles chosen to dress a piece set in the eighteenth century, revolving or non-revolving stages or...
He can answer because he's the man who decides these things in co-operation with the production team. Adrian has many years of experience working in theatres large and small in several parts of the UK. He will illustrate his talk with a presentation taken from his past and current productions plus some objects we can handle. His talk will provide us with a real shot of life and colour on what may be a typically dank, dark, February night.
Your reward for braving our traditional winter climate.
Tuesday, 19 March
HILL CLOSE GARDENS, WARWICK
Their Social History.
If you want to know why something has developed in a certain way, then go back to the very beginning, is a maxim much in vogue in the 1930s. Hill Close Gardens in its present form isn't that old but its roots go back far beyond the '30s. Intrigued?
Come and find out more about one of Warwick's best kept secrets which is crying out to be discovered by more and more people like us!
Chris and his wife, Margaret, were amongst the movers and shakers who got things moving on the embryonic project to restore these much neglected gardens which were destined to vanish under the plans to redevelop the site in Bread and Meat Close next to the racecourse, currently being proposed by the Warwick Council. The Council's loss was our gain. The credit for this rescue operation owes much to Chris his hard work and persuasive voice and pen, both used to great effect to appeal successfully for funding from sources great and small.
Come and hear all about it.
*****
Tuesday 16 April – A.G.M.
The AGM will start at 7.15pm followed by a short break for refreshments. The speaker will then be David Guilding, Arts Manager for Warwick District Council. David has overall charge of the Art Gallery & Museum, the Spa Centre and the Town Hall. As well as telling us a little of his background we hope he will be able to tell us about future plans and ideas for The Arts in Leamington. We have already seen lots of exciting changes at the Pump Rooms, it will be interesting to hear what else is planned.
*****
Art Gallery & Museum News
EXHIBITIONS
This summer we marked the centenary of the end of the First World War with the exhibition, Are You in This? Leamington Spa in the Great War (28 July – 11 November 2018). The exhibition included around 100 objects from our collection and some loans from other museums, including The British Red Cross Museum and Archive. It attracted 15,413 visitors and there were many favourable comments. Visitors felt that it was a thought provoking exhibition which paid fitting tribute to all those who were affected by the war, but particularly those from the local area. FLAG's contribution was much appreciated, allowing us to have 10 First World War posters conserved by Louise Vaile and to get 21 of them mounted and framed so that we could put them on display in the exhibition.
This was followed by only ever almost there (30 November – 24 February 2019), the first major survey of the work of sculptor, photographer and live artist Amy Sharrocks. This has broken new ground for us, as for the first time an exhibition has extended outside the Temporary Exhibition Gallery, with Amy taking over a part of the main Art Gallery and the Hammam. A decade's worth of Amy's work is displayed in the Temporary Exhibition Gallery. This work examines moments of connections between each other and the natural world. The Colours of Water in the Art Gallery uses artworks from the collection alongside new sound and video works to explore the building's links with water. In the Hammam is the Museum of Water, a collection of publicly donated water and associated stories accumulated over two years.
The ever-popular Open Exhibition returns in March 2019. Submissions are open to all professional artists based in the West Midlands.
EVENTS & PROJECTS
Events at the AG&M have been well attended this autumn and we've had excellent attendance figures for Arty Tots, Friday Focus and Art Cart. We've had a wide range of 'Palette and Paper' workshops for adults, including pottery, life drawing and wreath making, which we're now successfully running 'in house' to keep the cost down. We're extremely grateful to our team of Learning & Engagement part-timers who work very hard behind the scenes to produce interesting and creative activities that also link with our collection. Many of these staff are fairly recent appointments, who are now settling in as a valuable part of the team.
We're busy preparing for 'Museum Explorers' which is an after school club that launches in January. Because of the new opening hours this can run after the Art Gallery & Museum is closed which will be exciting for the children attending. Last week we also launched our first pre-school clay play, which is a new monthly event for toddlers.
In November it was a joy to host the Inventus Wind Quintet in partnership with Leamington Music where we all experienced the wonderful acoustics in the gallery space.
We combined French music, art and wine tasting in a very successful sell out concert which will hopefully be the first of many.
We finished the year with Santa's Grotto which attracted over 200 visitors. The brass band and festive crafts were very jolly and we were very grateful to FLAG for serving refreshments all afternoon. We're looking forward to a busy 2019 with our regular events and work with schools. We're hoping to start a new event for those living with dementia in the spring.
COLLECTIONS
We were successful in our application to the V&A Purchase Grant Fund for funds towards the purchase of Innocence Speaks of Light in Ways, 2012, by Simon Lewty. Early in 2019 we will submit an application for funds towards the purchase of the Master of Ceremonies medallion. This is an interesting item which sheds light on the early history of the Spa town. We are very grateful to FLAG for supporting both of these applications.
In November we were very excited to be offered an oil painting of The Holy Family, from the studio of Godfried Schalcken. This is a free transfer from Leighton House Museum and will be a valuable addition to our collection of Dutch 16th and 17th century paintings.
OTHER NEWS
Early next year we welcome a new member of the team when Alice Eden joins us as a research curator. Alice will be working on an exhibition about the artist Frederick Cayley Robinson, which will be taking place in 2021. This post has been funded with a grant from the Paul Mellon Centre.
We wish you all a Happy New Year and look forward to seeing you in 2019.
Art Gallery & Museum Team
December 2018
*****
FLAG EXCURSIONS - 2018
HEPWORTH WAKEFIELD Sept 2018
After a slightly extended coffee stop at Trowell Garden centre near Nottingham, we arrived at the Hepworth just before lunch.
The gallery is ultra-modern and purpose-built over the river Calder to provide a home for the Hepworth collection in the artist's home town. The spectacular design by David Chipperfield Architects incorporates many large, full length windows where it is possible to marvel at the river thundering beneath our feet.
After lunch we were divided into smaller groups and our knowledgeable guides then gave us a comprehensive tour of the gallery. They explained Hepworth's working methods, the gradual development of her style and the influence on her work of Henry Moore, who had been her fellow student at Leeds College of art. We also learnt that Terry Frost had been her long time assistant. As an added bonus, there was an exhibition of the work of the surrealist photographer and artist Lee Miller, together with works by Dali, Magritte and Max Ernst, amongst others.
By coincidence, in November, following our trip to Wakefield, and knowing of FLAG's strong connection with Terry Frost, the Arts Society of Royal Leamington Spa very generously invited any FLAG member to attend their lecture on "Contrapuntal Forms: Barbara Hepworth and Terry Frost".
The speaker was Justine Hopkins, and she proved to be very lively and enthusiastic. She added even more to our knowledge of Barbara Hepworth and especially to the work of Terry Frost.
Staff from the Leamington Art Gallery very kindly brought two of Frost's works to the Spa Centre to display on the stage.
We would like to thank the Arts Society for their generous gesture; it was greatly appreciated by many FLAG members.
Marian White
Jan 2019
*****
DAY OUT AT ELY CATHEDRAL
17TH October 2018
The Cathedral is a delight to behold, both externally and internally.
We arrived at Ely around mid-day and were then free to wander off on our own for a couple of hours, giving us plenty of time for lunch. Ely is a very pleasant town and small enough to walk around with ease. Our guided tour of the Cathedral was arranged for 2 o'clock, which meant we had time to enjoy a delightful walk around nearby Firmary Lane to view some of the former monastic buildings on the south side of the Cathedral.
We met with our guides at the appointed time – who were excellent, sharing with us the history of the cathedral and explaining the multitude of features of interest. They also had some very interesting stories to tell.
The Story of Princess Etheldreda
This story begins with a princess wishing to enter religious life. She was, an ardent Christian and the daughter of the King of the East Angles. She had made a political marriage to Tonbert, Lord of the Fenmen and when he died, she acquired land and royal rights to the Isle of Ely.
After Tonbert's death, Etheldreda married again. Her second husband was Egfrid, heir to the kingdom of Northumbria. Sadly, it was an unhappy marriage and after several years she managed to obtain permission from Egfrid to retire to a convent and become a nun.
Eventually she returned to Ely where she founded a monastery for both men and women and became Abbess for the last seven years of her life. She died of a tumour and was buried in a simple grave. Sometime later her body was removed and reburied in the church by her sister Seaxburga.
There were rumours that during this transfer her body was found to be incorrupt, the tumour healed, and her clothes remained as new. Touching them had a miraculous effect. Etheldreda was soon acknowledged as a saint and Ely became a place of pilgrimage. There is now an annual St Etheldreda Pilgrimage on the Saturday nearest 21st June, her feast day.
Sadly Etheldreda's church was destroyed by the Vikings in 869.
Benedictine Abbey
The ruins became a monastery and were refounded as a Benedictine abbey for men only. Two men (who later became saints) were responsible for the restoration of the monastery.
Dunstan, Archbishop of Canterbury 960–988: Ethelwold, Bishop of Winchester from 963 until 984.
Dunstan was responsible for restoring the monastic life of England. Under the protection of King Edgar he reformed the English Church ushering in a "Golden Age". Chapels in the South Transept commemorate both men.
As with other Benedictine abbeys Ely was an important instrument in shaping the Christian identity and culture of Europe. This monastic life was lived under the rule of St Benedict until the Dissolution of the Monasteries in 1539.
The beginning of the second millennium brought great upheaval for the Abbey. Hereward the Wake and his followers were the last to hold out against the Normans, but in 1070 they surrendered to the conquerors.
King William installed Simeon the Prior of Winchester as Abbot and at the age of 87 he set about rebuilding the whole church. Limestone from Barnack near Stamford was brought by water across the Fens. Norman master builders created a majestic church with its soaring pillars and round arches. Abbot Simeon began the building around 1081 and the work was finished in 1189, many years after his death. The Abbey became a Cathedral in 1109.
In 1322 the square Norman tower collapsed. A new wooden vault was built from which an octagonal lantern towers 18 meters high.
The style of the nave and transept is Romanesque, and the southwest transept is one of England's most ornate Romanesque interiors. Its size and beauty reflects the power of the Norman conquerors, the wealth and prestige of the monastic community.
Ely Cathedral is one of the most inspiring visits I have made for some time. It will no doubt be highly recommended by all of us who had the pleasure of going on this FLAG trip. I'm sure we all have our favourite experiences. I am a great visitor of Cathedrals both here and abroad and I feel that Ely may have gone to the top of my list. One of the things I enjoyed in general is the way ancient and modern share the same space. I love the modern sculptures and the way in which they compliment each other.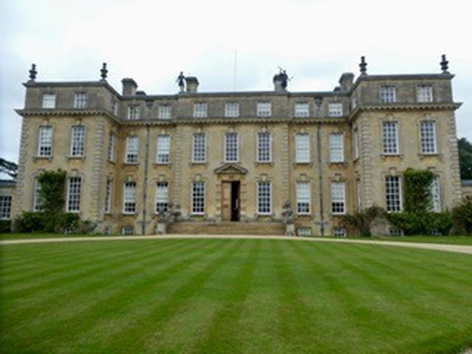 Three millennium sculptures were commissioned and installed in 2000. Adjacent to the labyrinth and complimenting its symbolism is "The Way of Life" in cast aluminium by Jonathan Clarke. Over the pulpit is Peter Ball's "Christ in Glory" made from driftwood. In the Lady Chapel is a new statue of Mary by David Wynne, carved in Portland stone. This last one caused quite a lot of discussion!
I also enjoyed the exhibition of sculptures by Helaine Blumenfeld an American artist who moved to Cambridge in 1970. It's wonderful to discover new artists and Helaine has exhibits around the country so hopefully I will be able to enjoy viewing more of her work. We ended our visit with a walk around the outside of the cathedral and then went down to the river where we found the perfect finish to our day with tea and cake.
Jenny Ridehalgh / November 2018
*****
As a postscript to the above account of our visit to Ely I thought those members on the trip would be interested to hear that Marian lodged a complaint to Johnsons about the temperature of the coach, the microphone not working and a rather unhelpful driver, all of which had an impact on our planned day and were not up to the standard we expect from Johnsons. They were most apologetic and did give us a discount off our next booking. Although the point Marian was making was the disappointing below expected service, which hopefully, won't happen again.
Lyn.