FLAG NEWSLETTER
January 2021
CHAIRMAN'S GOOD WISHES
Even before the advent of coronavirus, a phrase used by people referring to conditions in the wide world was what was happening "out there" and now these two words seem more appropriate than ever. Inside one's property is relatively safe, but outside one must assume that the virus is lurking and that stringent precautions are necessary. Conditions change almost from day to day and prepared plans have to be abandoned or radically altered. There is so much uncertainty.
It is obvious, therefore, that the Committee cannot make firm plans against such an unpredictable background. As we have not met in person since February 2020 we are desperate to resume our meetings and not so long ago we thought we were acting on the safe side by not trying to have normal meetings until January 2021 at the earliest. The timing has been deferred again and again and now we are hoping that there might be some good news by Easter. With the promised vaccinations that might be so and if a resumption proves possible, it will be carried out within the strictures of all sensible precautions.
Some of our members live alone and may well have spent a solitary Christmas, but at least we have the advantage of keeping contact by telephone or computer, even though this might be only a second-best. I would like to assure you that you are not abandoned in that there are many others in that same position and it is good that we have our membership network to enable us to be kept in touch and the reassurance that others fully understand the difficulties being experienced.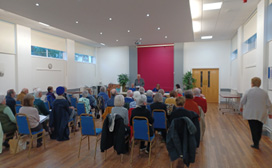 I have been reading about the 1951 Festival of Britain - exactly seventy years ago, which stated that the most celebrated construction was the iconic Dome of Discovery, the largest aluminium structure ever constructed. The towering Skylon became the other great Festival symbol. The futurism of the Dome and Skylon captured the imagination of visitors who saw them as symbols of hope and portents of a vibrant future. Let us hope that the coronavirus vaccinations prove to be symbols of hope for us, here in 2021.

GRAHAM E. COOPER /Chairman.
TREASURERSHIP
We were very sad to have to accept the resignation of Marian White as Honorary Treasurer and Committee Member. Marian had managed our accounts efficiently and reliably and we were especially sorry to have to lose her expertise. We wish Marian well and hope that she will soon see improvements so that we shall then be able to welcome her at future meetings.
FLAG has been especially fortunate, because when she heard of our need for a new Treasurer, Shirley Adams kindly offered to fill the vacancy and accordingly, she has very enthusiastically been appointed. Shirley has had experience of treasurerships so she is eminently suitable to look after FLAG's finances and has already "hit the ground running".
PUBLIC RELATIONS
FLAG would benefit if one of its members could look after its public relations and just in case one of you would like to try your hand at this venture, this is your opportunity. You might have performed this sort of function before or you might think it would be a good idea to try your hand at it. You would not have to be called the Public Relations Officer if you did not want to be and it might be that contributions would be sporadic - depending on the needs at the time.
Do have a think about this and discuss it with any member of the committee. Ideally you would join the committee but we would be willing to make the necessary adjustments on your terms. Do consider it.
SUBSCRIPTIONS
Your renewal form for 2021/22 has been sent. We really hope you will decide to remain a member of FLAG to help support the Leamington Art Gallery & Museum over the year. Obviously our activities have been very limited over 2020 but, hopefully, you have been enjoying the Zoom talks.
Our fingers are crossed that we will be able to have some trips again in the summer/autumn followed by real live meetings!
Thank you for your continued support.

LYN/ Jan2021
FLAG ZOOMS
It was with thanks to new Committee member Paul Baker, that In the Autumn of 2020 the FLAG Committee decided they could offer talks over Zoom to the membership. It was concerned that not all members would be able to view them but we could, at least, bring some enjoyment to a part of the membership.
Initially, Zoom being a new medium for us there were one or two technical hitches that were quickly overcome.
Each of these talks in November and December were well attended with sixty plus joining. There are three more Zoom talks booked for January, February and March 2021.
Please make sure we know your email address, so that if you wish to view, we can send you the link and the ID & Passcode to the meeting.
We are hoping to be able to meet together for the AGM in April. If not, it is likely there will be another Talk that month by Zoom.
PROGRAMME NOTES
November 2020 meeting
The art of Silver-smithing. It started slowly but eventually picked up by showing silver-smithing techniques with examples of work.
December 2020 meeting
National Trust property
Kingston Lacy in Dorset
Given by a volunteer Julian Black, at the house. We were shown several images of the pictures on display which included internationally known artists, such as Van Dyck, Bruegel and Titian. The speaker was knowledgeable, articulate and amusing - what more do you want!
19th January 2021
"Fakes and fortunes, art and antiques, forgers and dealers"
16th February 2021
"London through artists eyes"
16th March 2021
"Rembrandt: the artist's life discovered through his self portraits"
APRIL 2021
AGM – details to be confirmed
SPARK 2021: Ignite BREAKING NEWS From: Johnathan Branson of WDC
This year the programme will be spread over five days, 22nd – 26th February with Online delegates, who will share information about their work and plans for the future. How the creative sector is responding to the Pandemic and Brexit, also with updates on how Coventry City of Culture and Birmingham 2022 Commonwealth Games will affect Leamington.
If any FLAG member would be interested, let us know by Monday 1st February.
Meet the Gallery Staff

Collections & Engagement Managers
Chloe JOHNSON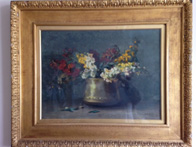 I started at Leamington Spa Art Gallery & Museum almost exactly 14 years ago, on 6 January 2006. I was in the final stages of completing my PhD and my, now, husband and I were considering where we might live once we had decided to abandon London life. He was setting up a business with a friend who lived here and I fell in love with Leamington at first visit. Amazingly, the role of Curator came up just a week or so after we had rented a flat in the town.
Having studied at the Courtauld Institute and then worked for several years as an Assistant Curator at Tate, I was ready for the next challenge and I was over the moon when the Senior Curator, Nicky McIntosh, rang me to tell me I had got the job.
Over the next few years I learned so much about every aspect of curatorial work – something you often can't do at a larger institution. I also relished being part of an extraordinarily friendly team. It wasn't long before Vicki Slade joined, working on the Tapping In project to digitise the collection. Little did we know then, that a decade later, we would be applying together for the role of Collections & Engagement Manager.
Leamington Spa AG&M is an amazing place to work. In my first year I realised that the collection was extraordinary. Over the years I have realised that the vision and progressive attitude that created it is not new – Alderman Holt had big dreams when he first founded the art gallery and others have been similarly ambitious. And that positivity and drive is echoed across the whole creative sector in Warwick District. I feel very lucky to be a part of a community which truly values creativity and culture and makes it part of our everyday experience.
Chloe Johnson
January 2021
Vicki SLADE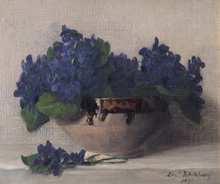 I joined Leamington Spa Art Gallery & Museum a few months after Chloe, on 30 October 2006. I was the (snappily titled!) Digitisation Officer, working on the Tapping In project to digitise the collections. Like Chloe, I was delighted when Nicky McIntosh rang me to offer me the position. This was my first collections based role in museums, having completed an MA in Museum Studies the year before. At the time I was working front of house at Birmingham Museum and Art Gallery, while also volunteering for the National Trust (as a house guide at Moseley Old Hall) and at Sandwell Museums Service.
The Digitisation Officer role appealed to me because its aim was to open-up access to the stored collections and share the treasures that we can't always put on display. I'll never forget how privileged I felt on my first day, to be able to explore the stores; I was always excited (and still am) to open a box - or pull out a picture rail – to discover what was within. Being Digitisation Officer, and spending every day with the collections, put me in good stead to apply for the Social History Curator role the following year. Over the next nine years I delighted in learning more about the collection and the history of the town, and using them to make links with our local communities through exhibitions, events and engagement projects. Then, following the restructure of the Art Service, I applied to be Collections & Engagement Manager with Chloe.
I often joke that I joined the Art Gallery & Museum on an 18 month contract and never left. That's because it is, as Chloe says, such an amazing place to work. I feel so lucky to work in such a beautiful building with its wonderful collections, and brilliant colleagues. It's also FLAG, and the wider community that make this such a great place to work, after all, I firmly believe that museums are meaningless without the communities that they serve.
Vicki Slade
January 2021
Art Gallery & Museum News
We start the year with Leamington Spa Art Gallery & Museum not only closed to the public, but without any paintings on the wall in the main gallery. We are closed due to the ongoing effects of the pandemic, which dominated 2020 and have bare walls due to a flood alert just before Christmas.
The last few months could not have been stranger, but we are all grateful to have been able to transfer to working from home. We have adjusted our programme, postponing, but not cancelling, exhibitions and events, and have continued to work on collection based projects and planning for when we are able to open the doors again. We have also embraced the digital options we had always hoped to explore and are now honing and perfecting our offer so that it can both cater for the months ahead and provide increased access to our fabulous collection and resources.
Boris Johnson's announcement of Lockdown No 3 on 4 January did lead to quite considerable last minute changes to our programme for 2021. Our wonderful Making Histories show was due to be followed by an exhibition called I:DNA, which we had hoped to open on 29 January, or soon after. This exhibition, a Wellcome Trust funded collaboration between Warwick Medical School and Sante Theatre and Media Productions (STAMP), is an artistic interpretation of ground breaking research into those living with genetically inherited conditions. The intention was to link the exhibition with a celebration, in the main Art Gallery, of 20 years since the Medicate project at Leamington Spa Art Gallery & Museum, when the Wellcome Trust funded the acquisition of a large number of artworks with medical links for the collection. Realising that there was a strong possibility that the I:DNA exhibition may never be able to open, or only open for a short time, we decided to do a complete Medicate takeover of the gallery and install the I:DNA artwork within the main space.
This display will remain in place until the end of the year and will echo the original Medicate art gallery takeover, which took place in 2002. We feel this is an important project, which has great resonance at this time and all of those involved have been excited at this unanticipated change.
In the last few months we have also been delighted to have received additional funding to support new elements of the project. STAMP have made a film looking at the way those involved in the research coped with the Covid crisis and Jane has gained funding from the Paul Mellon Centre to support a rich lecture series which will now take place between April and June.
While the main Art Gallery will open as soon as restrictions are lifted, we are already working on preparing the exhibition space for Modern Mercia, the exhibition which will open on 14 May 2021. This stunning show researched and curated by Jane Simpkiss and Professor Louise Campbell, will celebrate the fact that Coventry will be the City of Culture this year, and includes a broad and beautiful range of artworks created in the 1950s and 60s across Coventry and Warwickshire.
The year will end with a collaboration with the Coventry Biennial, titled Hyper-Possible. It will include contemporary art by a range of artists with links to Coventry and its history. Excitingly, Leamington Spa AG&M will be host to an impressive list of significant artworks on loan from Tate, Arts Council Collection and the British Council.
We are currently adjusting our plans for events to support these exhibitions and have had to accept that any real life workshops or activities cannot be considered for some time. However, we are working hard not just to prepare for the moment when they can start again, but also to develop our on going offer for schools and families. Shortly before Christmas we welcomed our first Learning & Engagement Apprentice to the team. Natasha Taheem will be with us for 18 months and will work alongside Sally. They will both be working with Jess from our Marketing team on a project supported by funding from West Midlands Museum.
DEVELOPMENT TO TAKE HADDIE'S GALLERY ONLINE WHILE WE ARE NOT ABLE TO CATER FOR FAMILIES IN THE USUAL WAY.
We were also delighted to hear last week that the Museums & Schools project, in which we partner with the V&A Museum and Culture Coventry, will be continuing from April 2021, providing both funding and some wonderful opportunities to expand and deepen our relationships with local schools.
Lily, Huw and Jane have worked tirelessly on collections based work, sometimes able to access the stores and sometimes having to work from home. Lily has been improving the storage of the ceramics collection; Huw is working on an audit of the ephemera in the social history collection and making strides in improving and updating our database system, while Jane is attempting to complete the audit of the art collection.
I'm glad to report that although such projects have been frustratingly interrupted at times, we have continued to receive donations and acquired items for the collection.
Rosy Burman, who sadly died in early 2020, left a number of works by Barry Burman to LSAG&M. We have acquired two portraits of former head teachers at Leamington College and two beautiful ceramic pieces by Rose Wallace from the Making Histories exhibition. Annoyingly, we are still struggling to arrange transport for a painting of Leamington Life by Dorothy Annan, donated at the end of 2019 and a drawing of Iris Murdoch by Harry Weinberger, both of which we are really looking forward to displaying.
Carole Sleight, our enthusiastic and energetic Arts Officer, has spent a good deal of 2020 providing support to arts organisations in the district who have been grappling with difficult and sometimes almost impossible times. Shortly before the coronavirus shut down, we hosted Spark, a major symposium for all creatives living and working in Warwick District. The event, which took place in the Spa Centre, and was attended by many members of FLAG, was a huge success and launched the Creative Framework. Despite the challenges involved, through 2020 the Creative Compact, a group of around 20 representatives of key creative organisations within the district, was established and we are now planning Spark 2: This time it's digital, to take place online, with events running through the week 22-26 February. This will provide a much needed boost to the amazing creative sector we have here and will, I hope, presage happier times ahead.
It is difficult to wish you all a Happy New Year without sounding just a little ironic, but we really do hope the year ahead will be a bit easier than the months behind us and that the work we have done will have a long and positive legacy. And we hope, soon, to be able to welcome you all back through the doors of the Art Gallery & Museum.
Vicki Slade and Chloe Johnson
Collections & Engagement Managers
January 2021
A Mystery solved
(Thank you Lily)
In our August 2020 Newsletter, Maureen (Ex FLAG Sec), remembered FLAG purchasing a small bird carved by Thomas Kendall of Warwick. We are delighted to say that this was recently on display between lockdowns. It was donated in 1984 and several current committee members could not remember seeing it.
The carved bird is by Thomas Kendall (1837-1919) of Warwick and is made from limewood. I am not sure whether it will be on display when we reopen. All things being equal, I think it should be - but we had to take things out of the gallery before Christmas in case of flooding, and of course the next few months are as unpredictable as the last few have been.
Do look out for it next time you visit the Art Gallery and Museum.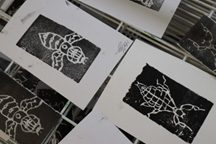 Wood carving of a Thrush by Kendall of Warwick This is a fine example of a limewood carving by Kendall, a member of the Warwick School of Wood Carvers.
Lily C/Jan2021
Update from Lily on University Challenge
Some FLAG members will already know that, when I'm not working at the Art Gallery & Museum, I am studying for a PhD in history at Balliol College, Oxford. I was selected for the college's University Challenge team in late 2019, along with classicist Solenne Scholefield, economist Chun Hei Hung, lawyer Benj Tomasi (our reserve), and the captain, philosopher Michael O'Connor. We progressed through the interview stage at the beginning of 2020, and filming for the series began in March. Our first match was against Clare College, Cambridge; it was very close but we made it through to the second round. Usually the whole series would have been filmed in the spring, before the first broadcast in July – but of course, like every other aspect of our lives, University Challenge was derailed by the events of 2020. Thus we found ourselves back at Media City in Salford during the autumn, wearing full television makeup under our masks. Anyone who watched our second match, against St John's College, Cambridge, will have seen that we were obliged to call on our reserve (as were several other teams whose circumstances had changed over the summer). Again, it was a hard-fought match but we were successful in the end. Look out for us in the quarter finals in early 2021!
Artists with Blue Plaques in Leamington
There are three blue plaques commemorating four artists in Leamington Spa, all with pictures in the Art Gallery, which have received support from FLAG.
Thomas Baker Born Harbourne 1808
'Baker of Leamington'
Blue Plaque, Church Street
*******
Frederick Whitehead His sister
Elizabeth Whitehead Born in Leamington
Blue Plaque Willes Road
*******
Terry Frost Born in Leamington
Blue Plaque, Rugby Road
*******
Thomas Baker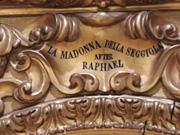 Thomas Baker in 1841. Painted by Octavius Oakley, Windows on Warwickshire
(1808-1864) born in Harborne, Birmingham, the son of the headmaster of Harborne Free School, he attended the academy of the Birmingham artist Joseph Vincent Barber.
He moved to Leamington when he was in his mid-twenties. Baker painted in oil and watercolour, mostly landscapes of local places of which the Art Gallery has a number of examples, often of local scenes. But, he also travelled to Wales, the Lake District, the Peak District and Ireland, often with his friend, the painter David Cox, who is perhaps better known and thought to be even more talented that Baker.
Baker was a member of the Birmingham Society of the Arts from 1827-1842 and the Royal Birmingham Society of Artists from 1842-1858. He exhibited with these societies as well as with the Royal Academy (1831-1858) and the British Institution.
He sold his work locally at stationers etc. as well as the "gallery" set up by William Whitehead (the father of Elizabeth and Frederick Whitehead) in Willes Road.
He lived in four places in Leamington but was for the longest in Church Street where his plaque is displayed. What little we know of his private life largely comes from an inquest into the suicide of his long-standing housekeeper, Hannah Hewitt. Thomas died in 1864 at 10 Regent Grove after a short illness which affected his stomach and it seems rumours may have spread of the possibility his housekeeper had poisoned him.
He fathered 5 children with Elizabeth Smith but they never lived together and by the end of his life Baker was struggling financially having borrowed £30 from his housekeeper who had not been paid wages for some time. He is buried in Harborne Church close to his friend David Cox. Baker was unusual in that he numbered his paintings and kept diaries giving a description of them and sometimes even a sketch. There is a splendid website created by Robert Mulraine where you can see his diaries and many examples of his work at: www.thomasbakerofleamington.com.
Elizabeth and Frederick Whitehead (1854-1934) (1853-1938)
Both Frederick and Elizabeth were born at 3 Lansdowne Terrace (now 5 Willes Road) where their plaque is displayed. Their father, William, was a carver and gilder and the house also served as a studio with a workshop at the rear.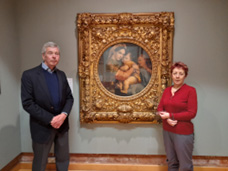 Cottage at west end of Parish Church, Leamington 1878.
Frederick received his first lessons in drawing and painting from the Irish artist Richard Rothwell and later received tuition from John Burgess, a well-known artist then living in the town.
Elizabeth, being a girl in those times, did not benefit in this way but she did attend the Leamington School of Art, as probably did Frederick.
They both travelled to France and studied at the Academie Julian in Paris for 3 years, painting in the summer months in the open air in Barbizon and Gretz. The Academie was important for Elizabeth because, unlike the Ecole des Beaux-Arts it not only admitted women but allowed them into life classes.
Frederick travelled widely while continuing to paint and exhibited at the Royal Birmingham Society of Artists in 1870. He exhibited at the Royal Academy from 1881 to 1893 as well as leading galleries throughout Great Britain.
He began to paint in Dorset in 1893 and it was soon after, at the age of 40, that he married Beatrice Case a well-known local singer and pianist. During their long married life, they lived in London during the winter and travelled in a caravan throughout Dorset in the summer months. While mainly known for his landscapes, he also produced still life, architectural and portrait paintings and was skilful in both watercolour and oil. He rarely visited Leamington after his marriage but did make illustrations for 3 books on Warwickshire. He died in London.
On her return from France, Elizabeth lived at the family home for the rest of her life, although she travelled around England and Europe with her friend (also called Elizabeth Whitehead) as well as North Africa where she contracted typhoid it left her deaf and needing to communicate using a slate and chalk.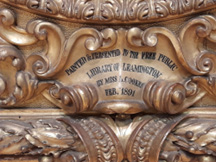 Elizabeth was encouraged to concentrate on still life and was an accomplished painter of flowers, but also painted landscapes and coastal scenes. She exhibited at the Royal Academy, the Society of British Artists and at the Royal Birmingham Society of Artists from 1877-1897. Elizabeth also taught art from 5 Lansdowne Terrace. She never married and died here in June 1934.
Frederick's painting can be seen in several museum collections including that of Dorset County Museum and, of course, Leamington Art Gallery. There are also examples of Elizabeth's work at our art gallery, but if you are in Bournemouth her work can also be seen at the Russell-Coates Art Gallery.
Terry Frost (1915-2003)
Terry Frost was born on the 13th October at 27 Rugby Road, Milverton – since demolished. His parents had married early that year and his father had enlisted into the Royal Field Artillery as a bombardier. Terry was largely brought up by his grandmother, Edith Lines. Terry only remembered seeing his father once when he was a child.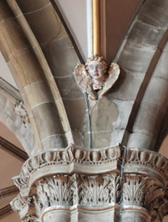 The family was struggling financially and Terry left school at 14, he worked in various jobs in Leamington and Coventry. His interest in drawing started as a child and he took evening classes in drawing. He enlisted in the Territorial Army and was called up in September 1939. He served in France, Palestine and the Lebanon and then joined the commandos who sent him to the Sudan and Crete where he was captured in 1941. He was in various prisons, landing eventually in Staling 383 in Hoeffel's, Bavaria where he met Adrian Heath who encouraged his interest in drawing.
Terry returned to Leamington and married a local girl, Kathleen Clarke in 1945, they had five sons and a daughter together. He became restless with his previous lines of employment and managed to gain a serviceman's grant with a place at Camberwell School of Art. His interest in abstract art started at this time and he and Kath moved to St. Ives and he embarked on a long teaching career. The family moved to Banbury in 1961 to teach at Coventry Art College and Reading University but they returned to Newlyn, Cornwall in 1974.
His first exhibition was held in New York in 1964 with retrospective exhibitions around England in 1964. Retirement from teaching led to a steep rise in productivity, not only in painting but also sculpture, ceramics and jewellery. He also ventured into glass and became a prolific print maker.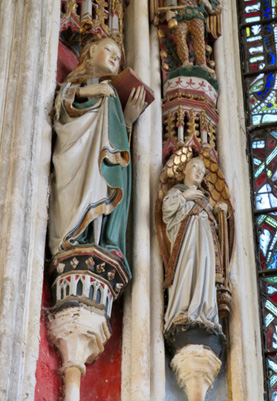 Orange and Blue, Sir Terry Frost Orange And Blue, May 1963, Oil on canvas 1012mm x 1012mm
By the end of the 20th century Terry was one of the best known artists in Britain. He was elected a Royal Academician in 1992 and knighted in 1998. He had an outgoing personality and infectious enthusiasm. He died on the 1st September 2003 at St. Julia's Hospice, Hayle, Cornwall survived by his wife and children.
Terry's work can be seen in numerous galleries, including our own. His plaque is displayed on a block of flats called Stamford Gardens which stands on the site of 27 Rugby Road.
NOTE: Orange and Blue is in the Leamington Spa Art Gallery, FLAG has offered a contribution towards the re-glazing of this work.
Judy Ross/Dec 2020.
*****************
When the GALLERY is CLOSED

Try their interesting website: www.warwickdc.gov.uk/artgallery

Online is:

Friday Focus
Making Histories
Art at Home
Creative Kids at Home
Arty Tots at Home