FLAG News:
SUMMER NOTES
I would like to welcome back friends, members new and old, to our Autumn 2018 season.
We have had a lovely summer, it seems every excursion took place on a dry, sunny day. All trips have been very interesting and enjoyable. We can look forward to our autumn excursions to Wakefield and Ely Cathedral in September and October. Then there are the evening talks starting in October with "A Tale of Two Artists" by Dr Chloe Johnson.
At the AGM in April we were delighted that Judy Ross and Marian White were elected and willing to serve on the Committee, replacing Margaret Watkins and Karen Parker, who stood down for different, but understandable reasons. We are particularly grateful to our Treasurer, Linda Nelson for all the work she has done for us, also to Maureen Chapman our Membership Secretary. Our thanks also to both Graham Cooper for taking over the role of Acting Chairman, from Clive Nelson who so willingly stepped into the role last summer.
WDC's new Arts Manager, David Guilding and the Gallery Staff have certainly transformed the Foyer and Gallery into a very lively and dynamic space. The Art Gallery and Museum is attracting lots of visitors, with the successful expansion into the foyer.
Thank you members, for your support that helps towards restoration and conservation of the collections.

nca/editor
The Committee is very grateful to Graham Cooper for stepping into the breach and successfully guiding us through the last few months since our AGM in April. Graham is an experienced Chairman, a keen observer and lover of paintings: he has been a member of FLAG for very many years! However, he is unable to commit long term.
If any member would be willing or knows of anyone who would be willing or interested in further details, to fulfil this role, please do contact any Committee Member.
OBSERVATIONS FROM THE ACTING CHAIRMAN
Like so many other voluntary organisations, the Friends of Leamington Art Gallery suffers from the inability to fill all the posts on its organising Committee. Members seem to loathe to volunteer to take on some responsibility perhaps with the thought that it will be difficult to devote the necessary time to it or that they do not see themselves being in a position to fulfil requirements, such as being able to address a meeting. The post of Chairmanship has been no exception and when a candidate could not be found I was asked to come forward to fulfil the position and to take the Society forward. I had been Chairman before, and a member for many years. I can recall when the Society was set up when Alderman Hilary Bostock, whom I regard as our founder, tried without success to persuade me to join: I now wish that I had and could therefore claim to have been a member since its foundation.
As always, we have a diverse programme in the coming season and congratulations should be extended to all those who have helped in any way to bring it all together. Our numbers have continued to increase and this must indicate that the subjects highlighted meet with general approval.
Our local art gallery appears to be of an ideal size - not too large. It seems impossible to do justice to a large gallery on one visit with just cursory glances at most pictures. Ideally, one should pour over a picture and spend at least ten minutes looking at it. I wonder how many people do. It is a good idea to look for small unexpected items sometimes overlooked because of lack of scrutiny. This is why, when given the opportunity to have a picture explained by an expert a vast amount can be learned. It is also interesting to try to determine what time of day and which season the picture represents. It is particularly interesting to try to date a photograph. Are the trees bare or carrying foliage, are windows wide open, from which direction is the sun shining, are any people dressed for summer or winter and what do the fashions suggest? To have an enquiring mind into such matters must be a valid qualification for membership of FLAG.
I would like to take this opportunity to thank all who have been involved in arranging excursions to various destinations and there have been some highly successful tours of late.
So, we embark on another season of interesting presentations with close co-operation with the Art Gallery Staff to determine how we can best assist financially and otherwise in the preservation and presentation of its collections.
We rely on, and are confident of, your support as you receive interesting facts while being pleasurably entertained.
GRAHAM E. COOPER
Acting and Vice Chairman.
FLAG
PROGRAMME NOTES
September 2018 – January 2019
Thursday 13 SEPTEMBER
Visit to Hepworth Gallery Wakefield.
Tuesday 16 OCTOBER
A Tale of Two Artists
Dr Chloe Johnson, Collections and Engagement Manager at the AG&M will be opening our new season of talks with A Tale of Two Artists, the life and work of two local artists, Thomas Baker and John Burgess Jnr. Both are represented in the AG&M collection. A couple of interesting characters, do come along to hear their stories.
Wednesday 17 OCTOBER
Visit to Ely Cathedral & the Stained Glass Museum
Tuesday 20 NOVEMBER
Letters to Mother
Margaret Louise O'Keeffe has, sadly, retired from giving her wonderful art lectures, so we were delighted when she offered to do one more talk for us based on her current work.
Letters to Mother: 'loved and were loved'
'Your love for me and my love for you has made my life one of the happiest that has ever been'
So wrote a young man to his mother on the eve of a battle in which he knew he might be killed. In such circumstances, soldiers sent farewell letters of praise and gratitude to the mothers they adored. In other letters home, the harsh realities of life on active service were minimised to avoid causing worry and, as they faced the horrors of mechanised warfare, thoughts of maternal love, warmth and protection provided comfort and support.
For so many soldiers dying in hospital or on the battlefields, the word 'mother' was the last they spoke. This talk will concern eleven people whose lives were changed by the Great War and whose letters afford touching proof of the sustaining power of love.
Tuesday 18 DECEMBER
Warwick Castle, A Forgotten Collection
Dr Adam Busiakiewicz is an Art Historian, Lutenist, Researcher and Lecturer. We are pleased to welcome him to our Christmas meeting. We shall be having the usual seasonal refreshments.
Warwick Castle remains one of Britain's best preserved and most popular medieval castles. The imposing stone walls and towers were built by the powerful Earls of Warwick, who took a leading role in the most important events of Medieval England. From 1604, the castle was transformed from a fortification into a luxurious stately home. The treasures of the eighteenth and nineteenth century Earls filled the castle with arguably one of Britain's most important private collections of Old Master Paintings, Furniture, Arms and Armour and objets d'art. The sale of Warwick Castle to an entertainments company in 1978, by Lord Brooke, meant that the castle's history, collection and interiors remains one of the country's best kept secrets.
Afternoon of Thursday 3 JANUARY 2019 at 2.30pm
The Story of Coventry
Peter Walters is an ex-journalist whose talk is based on his book, the first full narrative of the city's history for at least a decade. We often ignore Coventry's history so now is the time to learn all about it, especially as it is to be UK City of Culture 2021. Peter's book will be on sale at the reduced price of £15.
Tuesday 15 JANUARY 2019
The Codex Amiatinus: a Biography of a Book
Dr. Nick Baker is returning to give us another of his excellent talks. We are so pleased he has managed to find the time as he is now busy training for the priesthood.
The Codex Amiatinus
It is one of the most remarkable ecclesiastical productions of Anglo-Saxon England. It is a complete copy of Holy Scripture in a single volume, and one of the earliest surviving copies of the Vulgate (the Latin Bible) in the West. It was made at Wearmouth-Jarrow in the eighth century and was intended as a gift for the pope. For much of its subsequent life, debates raged over its origin, but it has now been identified as Northumbrian rather than Mediterranean, as was once thought. It contains illustrated pages showing the Tabernacle constructed by Moses, a portrait of the prophet Ezra as a scribe, and Christ returning in glory at the end of time. This manuscript is being exhibited at the British Library, the first time in this country in over one thousand years. This talk will look at the creation of this book, its imagery, text and subsequent history.
NOTE
Our evening meetings take place at 7.30pm in St Peter's Conference Centre, Dormer Place.
There is car parking on the street in Dormer Place and St Peter's Car Park, just round the corner, in Augusta Place. The small car park at the centre is reserved for church members.
Many members will already be aware, but for the benefit of those recently joined the following may be useful.
Excursions –
We do try to make our excursions as economical as possible while making a small profit towards donations to the Art Gallery & Museum. The cost of these excursions always includes a gratuity for the driver, currently £25.
Shop discount –
FLAG members get a 20% discount at the shop in the Foyer at the Pump Rooms, though it is not applicable to items sold on behalf of others. When purchasing, tell the member of staff on the desk that you are a member of FLAG.
Exhibition catalogues –
FLAG members are entitled to a free exhibition catalogue when FLAG has financed its production - again just ask at the desk.
Lyn July 2018
Friday Focus
The Lunchtime talks will start again Friday 7th September at 1pm with a Friday Focus Extra in The Gallery. The weekly talks cover a wide range of topics, fascinating facts and stories behind the exhibits. – FREE, no need to book, for details contact Sally Larke at the Gallery.
ARE YOU IN THIS?
LEAMINGTON SPA IN THE GREAT WAR
The new exhibition at the Gallery will certainly interest FLAG members. We were very pleased to contribute £2,000 to fund the conservation and framing of the posters on display. One of the events in connection with this exhibition is: First World War: Sing For Your Supper, a Museums at Night evening with a fish & chip supper on Friday 26 October. A discount on the ticket price for this event is available to FLAG members, ask when booking your place. Full details are in the latest Exhibitions & Events booklet.
Two of the Posters in the Exhibition conserved and framed with help of FLAG
Quilt made by the Art Society Volunteers –
FLAG supports the purchase of the conservation materials they use.
Photo from Chloe Johnson
Edited by KWA
Art Gallery & Museum News
There have been a large number of visible changes to Leamington Spa Art Gallery & Museum since 2018 began. The year started with the opening of the exhibition Lights of Leamington curated by Stuart Whipps on 18 January. This was part of a project supported by a £14,800 grant from the Arts Council and for the first time an artist was able to take over the foyer area as a display and activity area.
The foyer area was also transformed by artist Lyndall Phelps in mid-April, after some delays. Phelps' beautiful designs, taken from the tiles which once decorated the edges of the swimming pool in the building, now adorn the glass frontage. The patterns from the walls of the Hammam have also become impressive white on white wallpaper behind the main reception desk, which has now been moved from the gallery into the entrance area.
In the first fortnight of February we installed the New Displays within the Art Gallery. This changeover takes place on a biennial basis, but had been delayed since the autumn owing to the restructuring of the Arts Service. The layout of the space was adjusted to allow for the removal of the desk and create more space for visitors to Friday Focus. We have also moved the Spotlight display area and included an engagement area for our younger visitors. Close to that area is a display focusing on a picture by Cathleen Mann called Jane Posing, which is designed to be both dementia and family friendly and marks the start of some work we are doing to ensure we are making our collections as accessible as possible.
Whipps' behind-the-scenes view of the collection was followed by a thematically related exhibition called Unlocked! Behind the Scenes at the Art Gallery & Museum (27 April – 15 July 2018), which provided a curatorial angle on the collection. The exhibition and foyer area were launched at a celebratory preview party on Thursday 26 April. Building on the 'behind the scenes' theme, we provided weekly store tours during the exhibition. These proved to be very popular and led to some lively discussions about what we collect and why.
During the time of the Unlocked! exhibition the foyer area display was transformed three times. First, it became a music room to link with Leamington Music's Festival of Czech music (27 April – 8 May). Second, it became a potting shed to link with the Pump Room Gardens HLF funded project (11 May – 10 June). Finally, it became an artist's studio and was inhabited by a different artist every day to link with Warwickshire Open Studios.
The spotlight area has included two impressive displays. First a collection of paintings relating to the Solomon family, including loans from Leamington resident Colin Cohen. From May to July paintings by Leamington artist, Michael Felmingham, were exhibited alongside a selection of sketchbooks. The area is currently being re-displayed and will include a selection of small drawings completed during WWI by artist Miguel Mackinlay, whose work is represented in the collection.
Are You in This? Leamington Spa in the Great War opened on 28 July and runs until Armistice Day on 11 November. This exhibition, curated by Huw Jones and Lily Crowther, marks the centenary of the end of World War I and tells the story of Leamington Spa and its people during the conflict.
The exhibition will be complemented by a series of walking tours around the town. Further details can be found on the exhibition postcard and in the What's On guide.
In the autumn, we will also be marking the centenary of Women's Suffrage with a display on the Mezzanine floor looking at local suffragists.
The lecture by Thomas Plant, who used to work closely with David Barby on Flog It! had been scheduled for May, but has had to be delayed for practical reasons. We hope this will take place later this year or next.
Our events programme has been reviewed and developed over the past few months and now includes workshops under the title Palette and Paint Days, which have proved to be very popular.
Places can be booked online via www.warwickdc.gov.uk/royalpumprooms and through our Box Office in the Royal Pump Rooms foyer, 01926 334418.
Other events worth noting are the Heritage Open Days which will be taking place over two weekends this year. Alan Sharif will be giving tours at the Royal Pump Rooms over both weekends 6-9 and 13-16 September.
Museums at Night: Sing for your Supper 26 October 7.30pm. A World War One themed party with entertainment from the era and a fish and chip supper.
Our regular events: Arty Tots, Holiday Art Clubs and Art Cart Family Fun continue to draw good audiences while Friday Focus goes from strength to strength and we look forward to welcoming you back to our programme of talks in September.
In addition we continue to work with schools and are part of the Museums & Schools project run by the V&A in partnership with Culture Coventry. We have welcomed a large number of primary schools for visits and worked on two secondary school projects with Campion School and Myton School.
So far, it has been a busy year, with lots going on throughout the building and beyond. As we head into autumn, there are lots to look forward to, with a full programme of exhibitions, displays and events taking us through to the end of the year. And although we have had glorious sunshine outside, we are already planning for Christmas when, for the first time, there will be an artist created Christmas tree in the foyer.
Chloe Johnson & Vicki Slade
Collections & Engagement Managers
July 2018
EXCURSIONS - SUMMER 2018
Four Victorian Ecclesiastical Gems:
9th May 2018
On a sunny day in May we visited four Victorian Ecclesiastical Gems in Birmingham with Tim Bridges, Conservation Adviser to the Victorian Society; and what gems they were.
St Mary's Church in Handsworth, the so-called 'Cathedral of the Industrial Revolution' with memorials to Matthew Boulton, William Murdoch and James Watt and a picturesque churchyard nestled on the edge of Handsworth Park, the final resting place of the King and Queen of the Gypsies.
St Agatha's in Sparkbrook, the astonishing masterpiece of William Bidlake, with its eventful history of damage at various times by bomb, fire and tornado.
St Alban the Martyr in Highgate, with its stained glass east window by Henry Payne and copper Arts and Crafts triptych by local artists Kate and Myra Bunce.
St Augustine's in Edgbaston, with its wealth of stone carving and beautifully painted chancel ceiling.
But perhaps the surprise of the day was that, as we travelled between churches, Tim drew on his extensive knowledge of Birmingham to give us a wonderful account of the history of residential and industrial properties on our route, pointing out graceful Victorian and Edwardian villas and imaginative conversions of former factories and community buildings, including that of the Green Lane Public Library and Baths, now a mosque and a community centre, the project winning the West Midlands Victorian Society Conservation Award in 2017.
And just in case these wonderful cultural experiences weren't nourishment enough, we were treated to huge helpings of cake at every stop: a day to remember on many fronts...
Eithne
James Watt, St Mary's
St Agatha's
St Albans
Photographers: Eithne and Carolyn
Visit to Kathy Brown's Garden, Stevington
7 June 2018
Stevington Manor is on the site of a hospitium erected in 1200 to shelter Pilgrims visiting the Holy Well, whose health giving waters still flow from beneath the churchyard.
The Manor Garden (Kathy's garden) was in bright sunshine, so we saw its unusual Intersectional Peonies (cross between herbaceous and tree peonies), roses, astrantias, iris and clematis at their best.
Mondrian Wall
We were guided by Kathy and Simon Brown, who have over 30 years brought to fruition formal and cottage gardens, a laburnum pergola, wild flower meadow and various art works, where once the aged donkey Melissa had grazed.
Kathy's Rothko garden uses purple beech, dark plum and bronze Berberis to create a brooding enclosure based on one of the Seagram Murals.
Feathery grasses and Echinaceas give an impression of Monet's Water Lilies.
The Great Wave
Even Hokusai's 'The Great Wave' off Kanagawa has been brought to the garden by planting towering Miscanthus grasses which ripple in the breeze.
A topiary Chinese dragon lightens the mood near the drive.
Marilyn Lowe
TEWKESBURY & OWLPEN MANOR
10th July
Our first stop in Tewkesbury was at the Old Baptist Chapel, where we were made very welcome with coffee and cake. Originally it was a medieval hall house, later converted to a non-conformist meeting house. We were told the history of the Baptist Movement and the development of their chapel in Tewkesbury.
Tewkesbury Abbey is glorious, it was built to house Benedictine Monks in 1102 and was consecrated in 1121.
Touching Souls –
by Sculptor Miko Kaufman
In the Grounds of Tewkesbury Abbey Tewkesbury Abbey Owlpen Manor, is a Tudor Manor house, the home of the Mander Family. Its garden is unusual - a complete survival of an early formal garden on a manorial scale. There are centuries old topiary and box parterres.
It is now very overgrown, has steep paths and steps with a stream/water feature. It has fascinating herbaceous borders with maybe old rare plants.
Owlpen Manor – talk by a Mander family member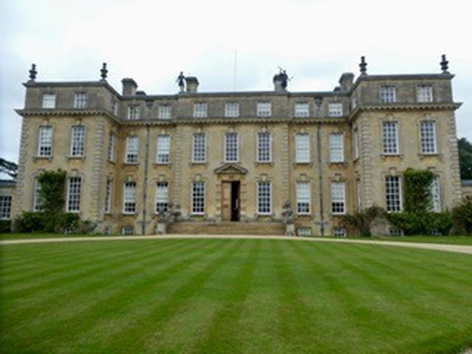 Liz, Marian, and Mary enjoying a rest in the cool of Owlpen Parish Church, just a stone's throw away from the Manor House.
The Higgins, Bedford

The Collection of George and Caroline Higgins
In 1949 Cecil Higgins gave his ancestor's George and Caroline Higgins collection of European and British decorative art mainly of the 18th Century to the town. The house is furnished and decorated in the style of the 1840s, containing displays of Meissen porcelain, Minton Art Pottery and William De Morgan tiles. A very large collection of William Burges painted furniture16th century Crystallano Venetian glass has to be kept in a moisture-proof case to prevent disintegration, but the Ravenscroft jug of 1678 still looks sturdy enough for the dinner table.
Charles and Lavinia Handley-Read have added to the treasures. Art Nouveau, Arts and Crafts, Aestheticism and Norwegian and Viking Style decorative pieces filled further galleries along with a sampler finely stitched by Elizabeth Snitch, aged 12 in 1779. It is a map of Bedfordshire and also has information about agriculture, market days and MPs.
The Edward Bawden room celebrates the colourful work of this prolific water colourist, printmaker illustrator and designer. A mural depicted John Bunyan, quill in hand.
Downstairs, one could travel back to the area's earliest days, but some of the hand axes were forged by Edward Simpson alias Flint Jack who took advantage of the Victorian Antiquarians. A rare 5th century window urn had a piece of Roman glass inserted into its base and was a funerary offering.
There was plenty to learn about Bedford's days as a frontier town between Mercia and Danelaw and by the 8th century it had a mint and Minster church. It is the 2nd oldest borough after Oxford and at the wool market in 1850, 30,000 fleeces were sold. Brick-making, rush weaving, lace making, iron working and airship manufacture have all played their part in its life.
A visit to the Panacea Museum across the road is an unusual experience. The site is unchanged since the demise of the religious community in the 1990s. The society was founded by Mabel Barletrop in 1919 and grew to 70 residents with 2000 members worldwide. Over 130,000 applied for the squares of healing cloth. It was believed that Mabel was the latest in a line of modern prophets and they prepared for the 'Second Coming'. They had a sealed box from Joanna Southcott (who lived in Blockley). It contains the 'Prophesies' BUT can only be opened in the presence of ALL the English Bishops. Rooms prepared for their visit remain unoccupied. BUT for the weary their Garden of Eden provides a welcome rest.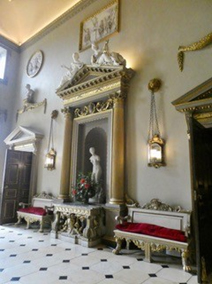 I crossed the road to visit the John Bunyan Museum and Church, but the doors were closing as I approached. Scenes from Pilgrim's Progress decorate the bronze entrance doors. Bunyan spent 12 years in Bedford Prison.
St Paul's Church also closes early, so I walked along Castle Lane to climb the Castle mound. The castle held out for 55 days against the siege directed by King Henry III and the Archbishop of Canterbury. I watched the flocks of swans on the River Great Ouse by the graceful five-arched bridge in the riverside gardens.
Bedford has much to offer.

Marilyn Lowe